Disclosure: This post contains affiliate links, which means I may receive commissions for purchases made through links in this post, at no cost to you. Please read my disclosure for more info.
Our Top 3 Picks for the Best Ride-On Toys for 4-Year-Olds
From the time kids are physically able to sit up and hop on a toy, they can ride them. By the time they are 4 years old, they're the perfect age for ride-on toys made by most manufacturers.
But what are the best ride-on toys for 4-year-olds? This list gives a variety of options. Whether you're looking for a classic ride-on toy, an electric ride, or maybe something more unique, you'll find it here!
Best Ride-On Toys for 4-Year-Olds: Pedal Bikes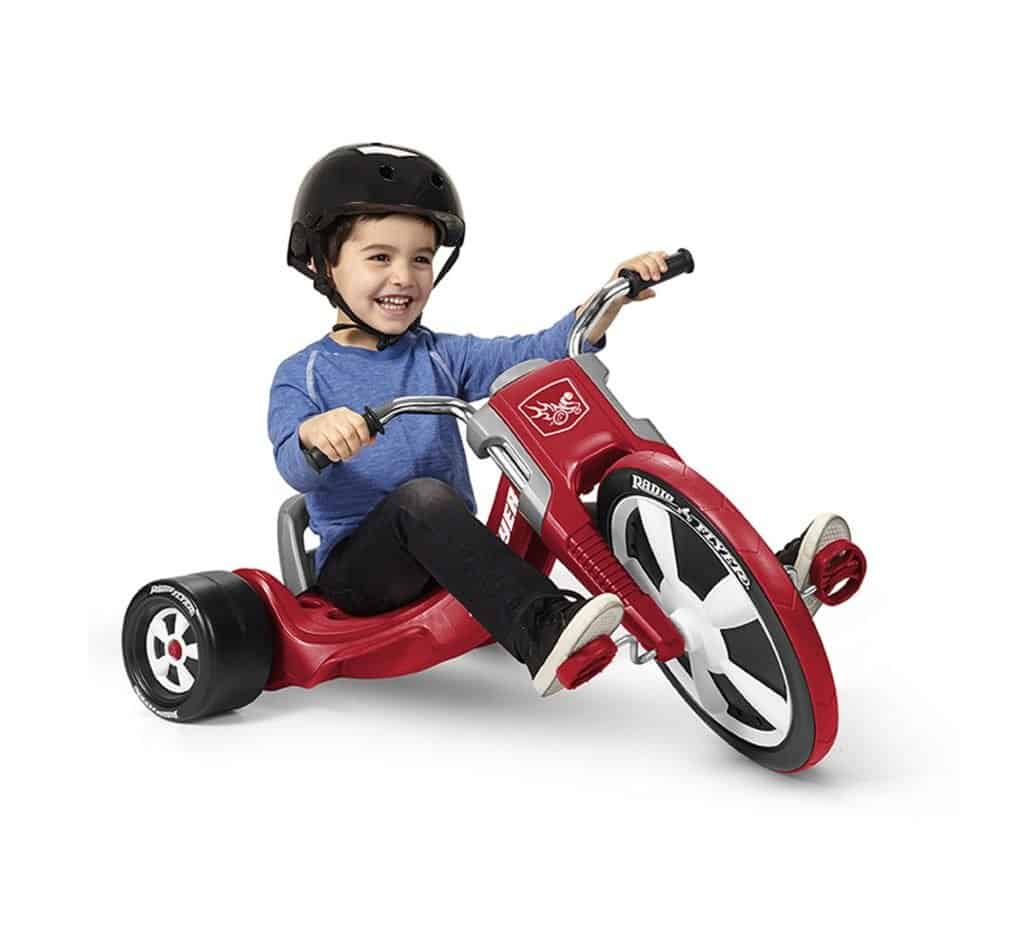 Big wheels are classic ride-on toys for kids. This one will grow with them for a few years, making it a great investment!
A throwback big wheel like a lot of parents will remember riding when they were kids. This one is perfect for a 4-year-old and can grow with them up to age 7. The seat moves forward and back based on how big they are, so it could even be shared between kids ages 3-7. Plus, the traditional Red Flyer styling is gender-neutral.
The go-to ride-on toy for kids is the bike. At age 4, kids can start learning to ride safely with training wheels. This bike comes in multiple colors and sizes. Plus, it's mostly assembled, so not too much work for parents. A few reviewers said it was a bit heavy for their kids to pedal, but for a 4-year-old, it should work just fine.
A great alternative to a traditional bike, this balance bike allows kids to learn to ride without training wheels from the start. This balance bike can grow with kids with the adjustable seat, and even though it's only for up to age 5, it says kids up to 60lbs can ride it. So depending on how big your child is, you might get an extra year or two out of it.
The classic retro styling on this tricycle is so fun and iconic, with plenty of cheerful colors to pick. While it's only recommended up to age 4, with an adjustable seat to accommodate growing limbs, some reviewers said their children who are over 4 are able to still ride it just as easily.
Got twins? Or two toddlers to handle? This double baby tricycle might be perfect for you! It has four different configurations, including as a stroller, and is rated for up to age 5. The front seat is rotatable so your kids can face each other and play on the go. The trike easily folds up to fit into the back of an SUV or larger car trunk, so a great choice for something to take on the road.
Best Ride-On Toys for 4-Year-Olds: Pedal Cars
The pull-behind wagon makes this tractor our pick for best pedal ride-on toy. Your kid will love hauling their favorite toys (or, you know, just lumps of dirt) all over the yard or neighborhood. The only downside is that it's only rated for up to age 5, so it won't grow with them for long.
A fun pedal ride-on toy that a 4-year-old can keep riding for years! This go-kart is rated for up to 8 years old and 66lbs with two settings on the adjustable seat. Perfect for a growing kid, or even to share between siblings of different ages. Good news for parents: it comes mostly assembled with only a few pieces to put together.
Best Ride-On Toys for 4-Year-Olds: Electric Cars
An iconic 4×4 style that comes in three colors, this electric ride-on toy is super fun. Kids can rock out with built-in music and a Bluetooth speaker. There are three speeds kids can use safely with a remote control for parents to override any overzealous young drivers. 8-10 hours of charging time will give around 1 hour of play.
This car is very similar to our above pick with a lot of the same features like a Bluetooth speaker and remote control for parents. But this car is too cool for school, modeled after the Lamborghini with butterfly doors and five color choices. The car starts slow, so you don't have to fear a sudden 0-100mph acceleration jerking your kid out of their seat.
Another fancy choice for kids who need an upscale ride. This officially licensed Bentley replica comes with a remote for parents, realistic engine noises, and MP3 plugin with volume control for your rock-and-roll drivers with the top down.
A supersized ride-on electric toy styled like a Mercedes-Benz with a realistic dashboard. The price tag is much higher on this one, but for good reason: double the seating space! A lot of electric ride-ons only have space for one child, but with this one they can take their friends and siblings for a ride-along.
Best Ride-On Toys for 4-Year-Olds: Electric Bikes
A fun, realistic ATV that drives like the real thing and comes in multiple colors. It has a lot of cool features like a working radio and real car engine sounds, but doesn't have a remote control for parents. However, none of the highly-rated ATVs we found for kids have one.
This 4-wheeler looks like the real thing! The design is realistic with a weight limit of 85lbs, and recommended for up to age 7. Kids can gear-shift between 2 speeds at 2.5mph or 5mph. The Polaris Outlaw doesn't come with a remote for parents, but parents can control the speed by locking out the second gear.
Best Ride-On Toys for 4-Year-Olds: Farm Toys
Definitely a splurge. This electric ride-on truck with a working dump is a child's dream! (Maybe they can even help with the yardwork with this.)
Pricey, but worth the money. This electric ride-on toy will grow with your child until they're 8 years old, and the extra features give bang for your buck. It has two seats so two children can ride together, there's a working dump bed to haul toys or dirt, and Bluetooth speakers. Plus, parents can feel assured of safety with a remote with override functions, and the four-wheel drive and anti-skid wheels provide traction for dangerous driving conditions like snow, ice and rocks, if for some reason you ever allow your kids to drive in those conditions!
Whether your kid loves tractors or not, the wagon attachment makes this ride-on toy irresistible. Unlike the John Deere tractor we recommended earlier, this one is electric, so they can spend less energy pedalling and more on tooting the built-in functional horn and warning others here they come! This tractor even has the option to add larger and more rugged wheels for better off-roading. The headlights also work, which makes for realistic driving in the dark (if you ever allow them to drive around in the dark).
This ride-on toy has a working digger on the front! There's a level that lifts the bucket up and down for a realistic feeling for kids, though don't expect it to be able to actually dig anything. With how it's constructed, the bucket could be used as an exciting front seat for a toy companion instead. This ride-on excavator is recommended for ages 3 and up with a weight limit up to 66lbs, so it could last a couple of years as your child grows.
Many parents will remember playing with one of these at a playground sandbox, right? If you've got a large sandbox, or a dirt pit for kids to play in, this is the perfect addition! It's not electric, and its wheels are mostly for moving it around easily rather than for a child to really ride it around, but it swivels 360 degrees and can take weights up to 110lbs!
Best Ride-On Toys for 4-Year-Olds: Other Electric Vehicles
Your child will feel like a little racer in this go-kart, but with key features like a parent-controlled speed lock, they'll be able to do it safely. Large rear wheels and extra traction on the front wheels make it the perfect drifting vehicle. It has 3 speeds, with the highest being 8mph, which is the highest max speed on our list. The design is classic and gender-neutral with a bit of an old school vibe, and it's recommended for up to age 8. Your child will be able to use it for a few years, and it can be shared between children of a large age range.
If your house has the room to spare, get your kids some real-life bumper cars for at home! These little bumper cars can be used singly, or you can get a few and let the kids bump into each other. The ride looks smooth and fun, even on carpet, and can be ridden inside or outside. It even spins 360 degrees with the joystick or remote control. Plus children as young as 18 months and as old as six can ride it. The max speed it goes is 0.75mph, so there's plenty of time for you to get out of the way!
Have a kid who loves trains? Then this is a must-have! Children up to age 5 and 45lbs can ride this train with a pull-behind car that choo-choos along on its own adjustable track! It even spouts real steam. The one downside is it must be used ON the track only.
Best Ride-On Toys for 4-Year-Olds: Scooters
This scooter makes our list for one reason — it has a seat! Sometimes kids get tired in the middle of a fun outing and just need a little rest. So on top of the fun light-up wheels and adjustable handlebars, that seat for resting or scooting is key — conveniently folding up when you don't wish to use it. The scooter can take on a weight up to 110lbs, so your kids can use it well into their teenage years.
With light-up wheels, adjustable handlebars, and sturdy construction, this scooter might be an even better scooter than our above pick, judging from its user ratings. So if you don't care about the bonus of a seat, then choose this one! It only holds up to 60lbs though, so your kids may get less use out of it.
Best Ride-On Toys for 4-Year-Olds: Wiggle Toys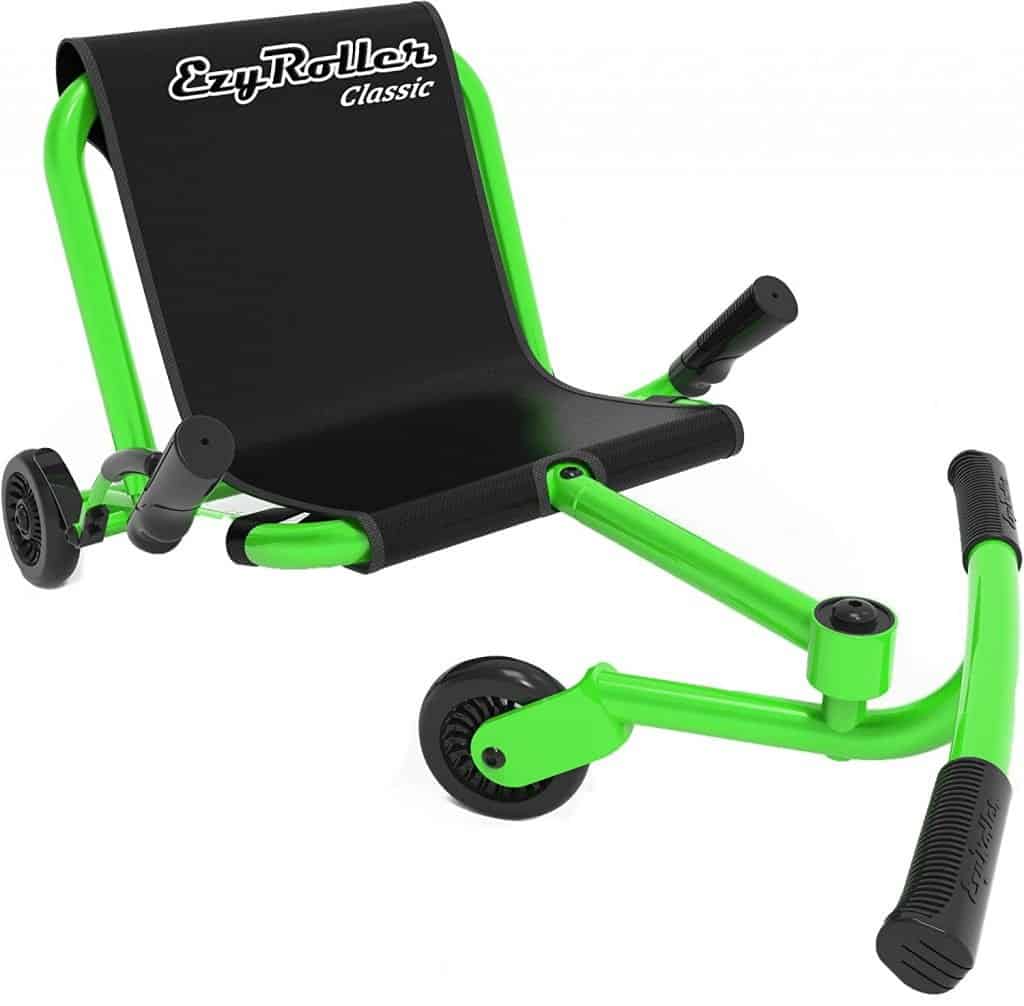 Fun and hands-free riding up to 150lbs! This ride-on toy is great for adults too and is a unique experience.
If you're looking for a ride-on toy that will grow with your child for a long time, this one is perfect. It looks like a blast, and holds up to 150lbs, so even smaller adults could take a spin on it. Push the foot bar back and forth to move, and wiggle your body around to steer. It's hands-free so your child can play ball or do literally anything with their hands while drifting around.
Fun! That's the best way to describe this wiggle car. It's operated by wiggling the steering wheel, and is a great choice for kids whose legs might be a little short for pedals but want something more than the typical ride-on toy you push with your legs. Plus, it's rated for up to 8 years old and 150lbs!
Best Ride-On Toys for 4-Year-Olds: Mini Roller Coasters
This is basically a tiny roller coaster in your backyard (or living room). It looks so fun, I bet adults will wish it had a higher capacity than 50lbs. But it's still sturdy enough for children up to 5 to ride. Bonus: the car can be used without the track, and the track has grooves to race toy cars! The car and track can fit into the base so you don't have to worry about storage.
Another mini roller coaster, but this one has a longer track that comes apart easily for storage. Though the track makes for a longer ride this one is missing the grooves for miniature car racing (though that doesn't mean your kid can't use it for that!). It's a toss-up between this and the Radio Flyer depending on your preference.
Also recommended in our list of best toys for 2-year-old girls and best indoor toys for active toddlers!
Best Ride-On Toys for 4-Year-Olds: Animal Ride-Ons
A lot of people might not have space for kids to roam around on wheels. This bouncy horse makes a great alternative for indoor play. Kids can get out their energy, have some exercise, and do gross motor play in a small space. The soft plush cover can be removed and hand- or machine-washed, and the bouncy horse is easy to inflate and ready to go in 5mins. There are other designs too, including this adorable beaming reindeer.
A real life fairytale, riding a unicorn! Kids power this unicorn with their own body by bouncing up and down on the footrests so they can get some exercise and that endless energy out while also feeling like they're really riding a horse. It's easy to steer, even on narrow paths, and the wheels don't roll backward so you don't have to worry about them losing control once they're on an uphill slope. It's rated for kids up to age 9, so you get plenty of years of usage out of your buck.
If unicorns aren't your child's thing, then how about an elephant? This operates similarly to the unicorn above, and it's a little larger. This one is technically recommended for ages 5-12, but if you have a larger 4-year-old and want something that they will be able to ride for many years or use for older siblings too, this might be a good option.
---
Final thoughts
Choosing the best ride-on toy for your 4-year-old will depend on your family's needs, preferences, and budget. This list has so many great ride-on options to choose from that whatever you pick will surely be a home run with your kid.
To see more of the best toys for 4-year-olds, check out the best toys for 4-year-olds and the best bikes for 4-year-olds.